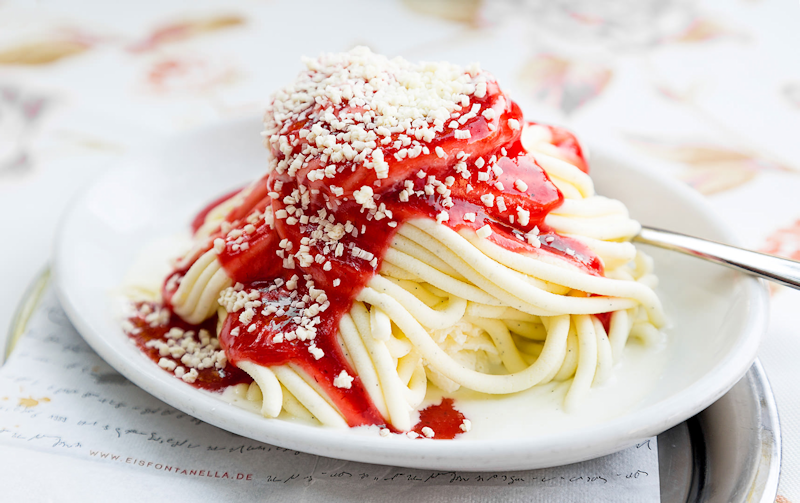 Spaghettieis is a basically a German ice cream dish that is made to look like spaghetti. The dish is really quick and easy to prepare which we would learn soon. In the dish, vanilla ice cream is pushed through a potato ricer or noodle maker, giving it the form of spaghetti. It is then placed over whipped cream and topped with strawberry sauce and/or with the shaving of grated almonds or white chocolate. Also the usual dish with the strawberry sauce, one may also find variations like ice cream with dark chocolate ice cream and nuts.
Origin of Spaghettieis
Now, why don't we all learn a bit about how Spaghettieis originated before going ahead and learning its recipe? So, Spaghettieis originated towards the end of the year 1960 by Dario Fontanella in Mannheim, Germany. According to him, once a few children started crying when he served them this dish as the children wanted ice cream and not a plate of spaghetti. In the year 2014, Dario was awarded the "Bloomaulorden", a medal bestowed by the city of Mannheim.
You can make Spaghetti at home! Want to know how? Let's go then…
Making this dish is literally a piece of cake. All you have to do is ensure that you have the right ingredients with you. Now, let's first list out the things we would require.
Ingredients:
Half cup of whipping cream
1 cup of strawberries, both fresh as well as frozen can be used
2 tablespoons of sugar
2-3 cups of vanilla ice cream
white or dark chocolate bar
cookie for garnish
All of these items can be easily found in the market so you don't have to bounce to various shops searching for them. Now once you have all the items at your disposal, let's get started with the preparation part.
The very first thing to do is prepare the strawberry sauce. Cut the strawberries in half. Put the sliced berries along with two tablespoons of sugar in a cooking pot over medium heat. Let it cook until the strawberries are soft.
Once soft, you need to mash them using a blender. You can even use a potato masher, in case you don't have a blender handy. Leave the mashed strawberries to cool. (This sauce is delicious on ice cream, waffles or anything.)
Next, beat up the whipping cream. You can add 1 to 2 tablespoons of sugar if you have a sweet tooth.
Scoop one-fourth of the whipped cream into a dish.
Now, you need to press the vanilla ice cream through the noodle-press over the whipped cream. You have to move the noodle-maker around and heap the vanilla ice cream, giving it a look of the spaghetti noodles.
Use some of the cooled strawberry sauce and spread it over the "ice cream noodles".
Use a grater to grate some white or dark chocolate over the top of the ice cream noodles.
Serve with or without a cookie.
VOILA!!!! Your Spaghettieis is ready to eat…
Since the prep time is hardly time consuming, you can make it anytime you want. Just ensure that your fridge is set at a high cooling temperature to cool the sauce quickly.