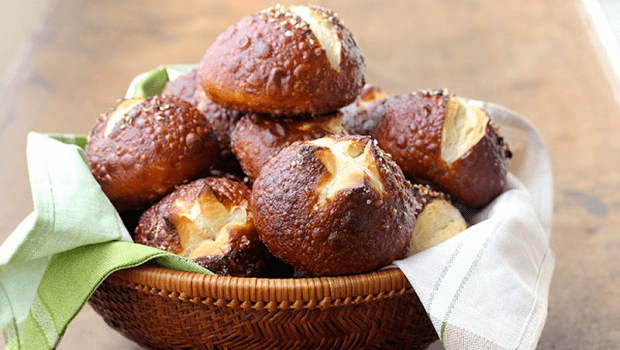 Laugengebäck: relish the German style pretzels
Laugengebäck is a German name for anything which is baked in lye. The lye rolls are one of the baked specialties in Germany. They are made by dipping the bread rolls in a lye solution before baking. The most well known design for this the pretzel are specifically called Laugensemmel or Kastanie. In some parts of Asia, they are known as laugen rolls.
This pretzel which is popular in the southern Germany and also parts of United States is made of wheat flour, water, and yeast. Also, some coarse salt is sprinkled. The hand-sized pretzel which is made for same-day consumption is relatively soft and not brittle. The Germans call this variety "Laugenbrezel" meaning lye pretzel because they are dipped in a lye solution before they are baked. The crisp hard pretzels like the pretzel sticks and other types of shapes available are all made from the same ingredients and have all evolved from the lye pretzel. The excess moisture is removed while baking which increases its shelf life and crispiness.
Lye
During the process of baking, a Maillard reaction needs to take place. It will give a browning effect, so the lye roll needs to be coated with a high pH or alkaline solution. Remember that higher the pH, the reaction will be stronger. Lye is known to contain high ph. But know that lye is not the only ingredient which can produce this result.
You can use washing soda solution or baking soda for this purpose and since it is easier to handle and safe to use you can avoid accidents also. The effect will be less because they are not as powerful as lye. The same solution is used for preparing pretzels even in Germany, and all of these baked foods are usually glazed with a lye solution.
Presentation
The lye rolls are usually covered with salt, the special pretzel salt which is large-grained salt made from smaller compressed salt particles. It helps to reduce the moisture absorption and the hardness of the salt grain. Mostly these rolls are cut in half and buttered in Germany and Switzerland. You will also find lye rolls with toppings like sesame, poppyseeds, and other seeds as an alternative to salt.
 Pretzel Rolls
A good pretzel bread should ideally be slightly crunchy on the outside and have a dark brown color with a milky white, slightly browned with a cross on top and be soft and chewy on the inside.
These pretzel rolls make best sandwiches, and they have become famous for the 'hamburger buns'. People usually have them with butter and cheese. They are best enjoyed and eaten fresh on the same day they are baked. You can also toast them back a day later and enjoy it. The salt on top in conjunction with the crust gives the roll a tendency to become soggy and mottled-looking for some days, but they freeze fairly well.  So, in case you want to freeze them, make sure to thaw them on the countertop outside the bag. This type of Laugengebäck is very popular across the globe and is loved by everyone. It has become one of the prominent breakfast dishes in several places.
You will find various kinds of recipes, but if you are interested in making the real pretzel rolls, then you need to use lye. It's because anything else will not give the right result. Lye is caustic, but it will convert into a simple salt on top of the pastry when it is baked and gives it a beautiful dark brown color. When you use food grade sodium hydroxide you must keep the following things in mind:
Since sodium hydroxide is highly caustic, it is always recommended to wear gloves and long sleeves while working. Use only stainless steel equipment as the lye can eat up aluminum and coated baking sheets over time. You must be very careful handling sodium hydroxide and remember to follow all the safety directions and instructions given on the package.
So here are the things you will need besides the actual dough to make delicious pretzel rolls:
Pretzel salt –this coarse salt will not only melt into the pastry but also stay intact at the time of baking.
Food-grade sodium hydroxide. It is a very important ingredient.
One stainless steel stockpot. It should be large so that it holds the water comfortably without any trouble.
A stainless steel skimmer.
1 – 2 stainless steel half sheets.
A sturdy metal scraper.
A pair of chemical-resistant gloves to give a good protection.
Goggles and a long-sleeve shirt.
Ingredients for the rolls:
Pretzel Rolls (Laugenweck)
The given ingredients can be used to make ten rolls or pretzels:
725 g bread flour
5 g diastatic malt powder
7 g yeast
375g water
5 g salt
Pretzel salt for topping.
For the lye (at a 3.5% solution): two liters of water
70 g of sodium hydroxide crystals
Procedure
First, dissolve the malt powder in water.
Next, add the dry ingredients to a bowl in which you can mix the ingredients using a dough hook.
Add water slowly to this and keep kneading the dough until it forms a ball. It should be clearing the sides of the bowl.
In case you find the dough too dry, you can add a little bit of water till the desired consistency is achieved.
Keep it aside overnight and let it rise till it doubles.
The day you want to bake it, start by preheating the oven to 400 F or 200 C.
Now cautiously add sodium hydroxide to the cold water and close the pot by bringing the lye to a rolling boil. At this time turn off the heat.
You can divide the dough into ten pieces weighing almost 110 g
You should spray the stainless steel baking sheets with the cooking spray.
CAUTION: you should never add the sodium hydroxide to boiling or hot water as it will cause the pot or pan to boil over instantly and can end up splattering you with lye.

Now shape each of the pieces into a round shape and seal them well at the bottom.
Take the rolls and dip it into the lye upside down and remove with the skimmer.
Drin this well and place it on the baking sheet.
You can score the rolls with a serrated knife or even a razor blade.
Traditionally, the rolls are scored with a cross on the top.
On top sprinkle the pretzel salt.
Bake the rolls until they become a deep brown in the middle.
Make sure the light part of the roll remains light and does not get darkened very much.
You can enjoy warm pretzels for your breakfast or as a snack. Or, you can also include this recipe as a part of your menu for you next family gathering. They are served with butter or some other spread. Make this unique and famous recipe at home and enjoy fresh and crispy lye rolls with your friends and family.