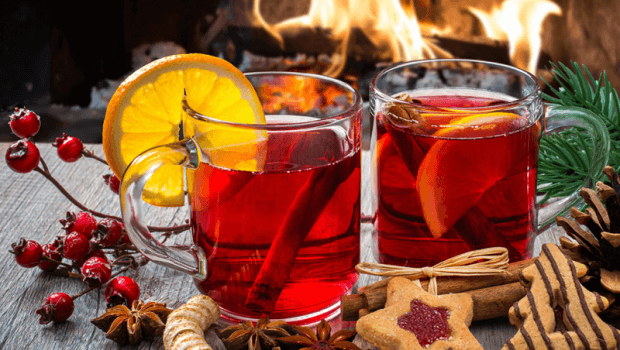 Glühwein, a mulled wine, is a popular drink in German-speaking countries. The name, Gluchwein, translates into "Glow Wine" refering to the hot iron used for mulling. In the past, when the wine started deteriorating and the thrifty folks were reluctant to throw it away, they came up with the idea of adding spices and honey to make it drinkable once more. Thus, a wine similar to Glühwein came into existence.
Overtime, spiced wine became a staple for the majority of Europe and the Middle East, since it kept people warm during the cold, winter months of the year. Due to the wine containing aphrodisiac and medicinal properties, it turned even more popular in various parts of Europe. The first tankard containing Glühwein is attributed to a German nobleman named Count IV of Katzenelnbogan. The tankard dates back to the year 1420, which marks the first appearance of Glühwein.
With the passage of time, different European countries gave Gluwein their twist. In the Netherlands, Glühwein is known as Bisschopswijn (also known as Bishop's Wine) and people there used lemons instead of oranges as an essential ingredient. In Moldova, black pepper and honey were added to the wine. Although varied in nature, these ingredients still retain the spicy flavor of Glühwein.
With different cultural identities, various forms of Glühwein came into being. The French call it Vin Chaud (hot wine), Bulgaria refers to it as Greyano Vino (heated wine), Italians named it Vin Brule (burnt wine), and it is known as Shoga Zake (ginger sake) in Japan as the Japanese make use of ginger as a key ingredient. People in medieval Poland started adding cream to their Glühwein, turning it into a kind of a soup wine. In the Victorian England, people made their wine with water, nutmeg as well as lemon peel. With the changes in time and situations, people's drinks underwent a marked change as well. Glühwein is no exception. There have been so many different varieties of the drink that the original recipe is now hard to pinpoint at.
Glühwein is a drink that is most enjoyed during Christmas every year. No German market is complete without Glühwein. During various occasions and festivals such as Christmas, one can notice hoards of people hanging outside wine shops in their winter attire, enjoying the warm red wine at the rim of the cup or glass. Nothing is more delightful than sipping a hot wine on a winter evening.  And especially if you're one of wine-lovers, you can't afford to miss out on this amazing drink.
If you are visiting a Christmas market in Germany, you can not only take immense delight in the scrumptious taste of the wine but also keep the creatively adorned mug in which it is served to you, with a little additional fee. So, you not only take back the memorable flavor of Glühwein back with you but also a memento in the form of a small mug on the which the year and with the name of the town is inscribed. Amazing, isn't it?
Glühwein is that wine that will make a place in your heart for a long time to come. The next time you want to enjoy the delicacy of a winter wine, you do not need to go to Germany, since the recipe for Glühwein is now just a click away.
Composition
The recipe for the original Glühwein is a little hard to ascertain. With many variants available out there, the authentic recipe for the German mulled wine is not an easy one to find. But, all the recipes have certain common ingredients such as red wine, cinnamon, and cloves. The modern versions of the wine also include water and sugar to reduce the amount of kick Glühwein can produce initially. The sugar helps to level the viscosity required. An addition of cardamom as well as star anise adds to the spiciness of the wine. So adding these two is very important when it comes to the preparation part.
Glühwein can also be prepared with white wine instead of red one. But, red Glühwein is much more popular than the white one.  It can be enjoyed with various other treats offered at the German Market such as Gebrannte Mandeln (burnt almonds), Lebkuchen (chewy, spicy cakes), Reibekuchen (potato pancakes). A hot Bratwurst is an ideal treat to enjoy with Glühwein.
Recipe
The following recipe will serve four people and its preparation time is 30 minutes.
Ingredients:
750 ml of red dry wine
100 ml water
3 tbsp sugar
½ sliced lemon
2 cloves
1-star anise
Two cardamom pods
Two cinnamon sticks
Preparation
Take a large saucepan or a pot and heat red wine in it. Ensure that you do not boil the wine as the boiling process will lead to evaporation of alcohol.
Take a sliced lemon, cloves, star anise, cardamom pods, cinnamon sticks, sugar and add it to the wine in the saucepan.
Stir the mixture until the sugar in it dissolves completely. Simmer it gently for 10-15 minutes. Make sure not to let it boil even a bit.
Remove all the added ingredients from the mixture. These ingredients will leave its flavor in the wine.
Portion it out in individual glasses and relish its taste
If you do not have heatproof glasses, make use of regular glasses by placing them in warm water for approximately 10 minutes and then pour hot Glühwein in them. It would prevent your glasses from developing cracks.
Glühwein can be enjoyed warm as well as chilled. You can store it in a bottle and place it in a refrigerator for further use.
You can even use honey instead of sugar, or orange instead of lemon. The traditional way is the ideal way to prepare a Glühwein. But, in no way does it mean that you cannot add your little twist to the recipe.  You can combine various ingredients and experiment a little with wine that has already undergone many changes in the past years. Your experimentation might just make it all the more appetizing.
Although Christmas is the best occasion to indulge your senses in delicious Glühwein, there is never a right moment to go ahead and take a sip or two. A delectable gulp can be achieved by only twenty minutes of preparation and ten minutes of cooking. Thirty minutes of effort will give you a drink you will relish for a long time. You can also make this drink a part of the menu when you throw a bash for your family and friends.