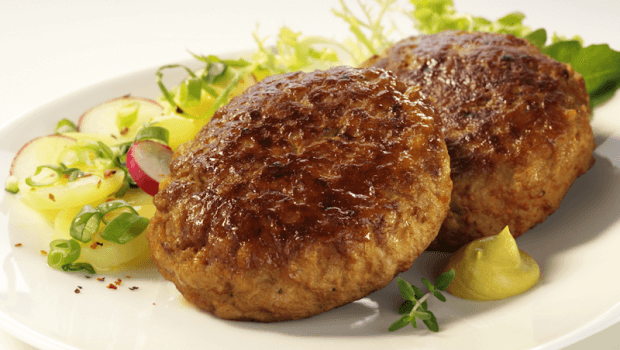 Flattened dumplings made of minced meat in Germany and in the Dutch speaking areas are known as frikadellen. It is often linked with the meatballs hailing from regions of North Germany and proper Denmark. In Germany, you can also find them under the names of Frikadellen, Buletten, Fleischküchle or Fleischpflanzerl.
In-fact this variety of the meatball or minced meat patty is famous across Europe. Take Austria for example, the same variety is popular by the name of Faschierte Laibchen. In Denmark, the Faroe Islands, Norway, Poland, Russia, Estonia, Ukraine, the Netherlands, Lithuania, South Africa, Hungary and Sweden as well you can find similar verities under the aegis of different names.
There are many regional varieties available in Germany itself. But, traditionally frikadellen was prepared using minced veil, pork or beef and more often than not there used to be a blend of these meats. They were prepared along with onions, eggs, milk or water, crumbs of bread or oatmeal or flour, salt and pepper. Then they are turned in the shapes of flattened balls. Finally, these patties are pan fried either in simple butter or margarine, or by using the fat from pork and/or beef. Interestingly there is also a variety which goes by the name of fiskefrikadeller. In the case of fiskefrikadeller, the meat is replaced with fish and it is served with remoulade. Frikadellen is often served with potatoes on the side which can be prepared in any form.
As far as the history of frikadellen goes, the origins largely remain uncertain. Culinary studies have shown the etymological derivation have been sprouted from fricandeau de veau. The fricandeau de veau was a dish wherein sliced veil was larded with pork fat. The spread of frikadellen is rather fantastical. You can find references of the dish in Indonesian cuisine and what is fascinating is that the spread happened due to the Dutch travelers. In the Indonesian cuisine frikadellen uses corned beef rather than ordinary beef. Furthermore, the round shape of the mixture is attained by using the yolk of the egg. It is then served with the typical mashed potatoes or cabe rawit, spring onions, shrimps, peeled corn, or mashed tofu. The legacy of the frikadellen can also be found in Sri Lanka where they are mostly found in lamprais.
Recipe:
The following presents the traditional recipe of pan-fried, meat ball patties or the frikadellen. These patties require to be served along with sauces and salad or baked potatoes on the side. The recipe will require a total time of about 30 minutes and serves 4 patties.
Some preparations also use Maggi or Fondor in the meat mixture. Maggi and Fondor are two related kinds of products. The only difference is that one of them is available in the liquid and the other in powdered form. They comprise of salt, gluten, glutamate, starch and certain proprietary herbs along with spices. Also, they carry a distinct taste of lovage which is related to celery. They can be added to almost any kind of preparation to enhance the taste and flavoring. Maggi is also sometimes as a side condiment similar to soy sauce and/or steak sauce.
Another popular preparation is called Frikadellen mit Kümmel (Meat Patties with caraway). This is quite popular in Berlin and in it maintains its distinctness by using 1 teaspoons of caraway and 2 teaspoons of prepared mustard instead of parsley and marjoram. Then the rest of the process should be followed as directed below. It can be served with Bratkartoffein and mustard or with a hard bread roll.
Bauchtspeck or bacon sometimes are added which have been put through a rigorous grinding process before the frying begins. The recipe in no way is fancy and when finished can make up for an entire meal.
Ingredients:
Onions: 1 cup finely chopped (1 medium sized onion)
Cooking oil: 1 teaspoon
Bread roll: About a day old and should be soaked in hot milk or water and then squeezed dry
Grounded meat: 1 lb (compirisng of pork and beef in equal proportions)
Eggs: 2
Salt: 1 teaspoon
Grounded pepper: ¼ teaspoons
Fresh Parsley: 3 tablespoons chopped
Dry Parsley: 1 teaspoon
Fresh Marjoram: 1 tablespoon
Dry Marjoram: 1 teaspoon
Unsalted butter: 1 tablespoon
Extra virgin olive oil: 1 tablespoon
Preparation:
Firstly take a medium sized heatproof bowl; ideally it should be made of glass. Then place the finely chopped onion in it along with 1 teaspoon worth of oil. Next, cover the top of the bowl using a heat proof plastic covering and microwave it for about 2 to 3 minutes or till the time the onions become translucent. With that done take the bowl out and allow it to cool down for a minute or two.
Then take a separate bowl and break the bread roll in small pieces in to the bowl and add the meat along with the rest of the ingredients and finally the cooked onion. Mix them well enough.
Now, take a nonstick frying pan and heat some butter in it along with olive oil.
Next, using the above mixture form 4 numbers of patties and then place them on the frying pan on medium heat. The patties should be fried on both sides till the time their color changes to brown. With that done, take the patties out carefully and then place them on baking sheets. In the meantime preheat the oven at 350 degree Fahrenheit. Then place the patties in the oven for about 15 minutes. The idea is that the patties should no longer remain pink on the inside. You can slightly break the patty to check that.
It can then be served with lettuce leaf along with potato salad on the side and mustard or any other sauce of the choice. Germans also tag along their preferred variety of ails.
You can also roll the patties in dried and seasoned breadcrumbs before frying them. This will give them a nice and crispy exterior allowing the savory crunchiness.