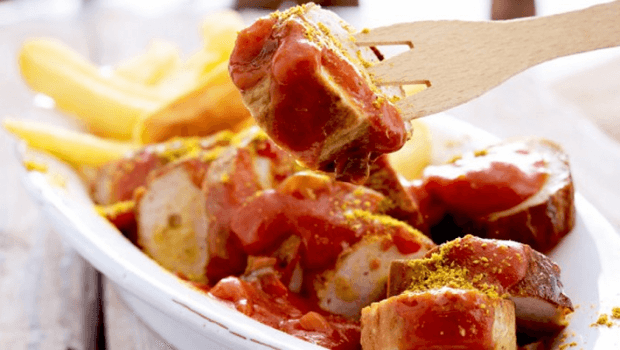 Currywurst: Germany's favourite Street Food
When it comes to food, Germans sure are a lucky lot to have such a ginormous range of varieties. German cuisine has gone through a considerable amount of evolution in the course of the years and all the variations and regional divergences are a result of many such aspects. This side of Europe holds a considerable amount of cultural similarity.
Currywurst is largely regarded as the ultimate, must-have variety of German street food. One can find the lovers of the dish quite particular when it comes to their currywurst. As a result, ardent lovers only visit their own particular and favourite joints in the region.
If you look across the internet there is an immense amount of variety that can be found. Some use ingredients such as cola, orange juices and sauces made from apples, lime and plums, and apricot jam. On the other hand, there are those who suggest that fried onions are a must have ingredient when it comes to the preparation of currywurst and there are those who hold the opposite opinion. As far as the base is concerned some varieties use ketchup and then there is this group of people who take an offence if ketchup is used in any form.
Thus the expert knowledge states that an official recipe for currywurst does not exist. Also, when it comes to making it in one's own household right from the scratch is another rarity in Germany. Most of the people have one or the other source through which they procure currywurst in parts or the whole. This, of course, is much easier.
    The History
This sausage dish from Germany is believed to have emerged in the period that followed World War II in Berlin. Furthermore, the credit for the creation of this delicacy is given to a certain Herta Heuwer. She was a famous restaurateur in Berlin who began operating from a simple street corner at Kantstrasse or Kaiser-Friedrich-Strasse that is located within the Berlin district. Heuwer is believed to have conceived the dish sometime in the year 1949 after she procured products such as – ketchup or Worcestershire sauce and curry powder from the British soldiers who were stationed in Germany.
Herta Heuwer then went on to mix all these ingredients along with spices and then simply poured the mixture over the pork sausages that were grilled. The resultant dish was then sold by her on a small time stall on the above-mentioned street corner in Berlin. Soon enough the currywurst gained popularity first among the construction workers who were engaged in the rebuilding process of the city. Later on in the year 1951, she went on to patent the sauce under the name of Chillup. The dish became so popular that at one point it was being served to almost 10,000 people in a week. All this success enabled her to open a small time restaurant which remained in operation until the year 1974. One can simply understand the popularity of currywurst and Herta Heuwer when in 2013 Google celebrated her 100th birth anniversary with a doodle.
In the recent times, the currywurst has started to be sold only as a takeout or a takeaway food item. The dish is usually served along with French fries or the popular German bread rolls called – Brötchen. The dish is so famous that one can find it far and wide in Germany, especially in the metropolitan regions such as that of Berlin, Hamburg and the Ruhr Area. However, one does find a considerable amount of variation in these regions mainly in terms of the kinds of sauces used. Commonly, one can find the usage of paprika or chopped onions.
More often than not one can purchase the currywurst from food booths and sometimes even through dedicated machinery that would first cut the currywurst into pieces and then serve it with forks made up of plastic or wood.
      The Deutsches Currywurst Museum
If you love food and museums then you sure are at the right place. The Deutsches Currywurst Museum is located in Berlin Mitte near Checkpoint Charlie in the city of Berlin and solely dedicated to the German sausage – currywurst. It is the only one of its kind and annually receives 350,000 visitors.
The museum was opened on 15th August 2009, nearly 60 years after it was invented. It was founded by a certain Martin Löwer, she believed that the currywurst held a cult status in Germany and therefore created the museum.
Visitors are made to follow a sauce trail which takes them along the historical journey as undertaken by Herta Heuwer and currywurst. Various exhibits at the museum are made in such a manner that they are interactive and people can engage with them through their senses of sight, smell and sound. The most interesting feature of the museum is its spice chamber which has a sniffing station, additionally, you will also find a sofa shaped as a sausage and currywurst theme songs being played throughout the journey.
Recipe
Ingredients
For the Bratwurst:
Tomato ketchup: 1 cup
Baking soda: ¼ teaspoon
Curry powder: 4 to 5 tsp (mild)
Smoked Paprika: 2 teaspoons
Onion Powder: 1 tsp
Cayenne Pepper: 1/8 to ¼ tsp
Liquids:
Worcestershire Sauce: 2 tsp
Beef broth: 4 tbsp.
Water: 2 or more
One can also substitute the beef broth with the vegetable broth and also use the vegan version of the Worcestershire sauce. Furthermore, vegetarian sausages can also be used if one wishes to prepare a veggie only version.
Also, if you do not wish for your currywurst to be spicy then avoiding the cayenne pepper completely will be a good idea. In the case of smoked paprika, it might be a little higher on the price so therefore you can instead use a liquid smoke along with sweet paprika. If you are a foodie then trying out the smoked paprika is not a bad deal, but it sure will drill a hole in your pocket. On the other hand, if you do not find any of the above, then there is still nothing to be worried about, the dish would turn out just fine.
You can begin by taking a sauce pan and adding one full cup of tomato ketchup into it. Place this saucepan on low heat and just warm up the ketchup for a few minutes. Now, when the desired temperature is reached, go on and sprinkle the 1/4th teaspoon worth of baking soda in it.
With that done you will notice that the texture would have become smooth. Also, the taste might be slightly biting and the best part is that the baking soda would have easily neutralised it. Also, keeping a check on the level of acidity is important. Furthermore, stirring vigorously would be important when you decide to add the baking soda because it is important for the foaming to subside. When you will be done, the ketchup would again turn back to its normal usual state. Now you can reduce the heat and put the aromatic spices in the mixture and then give it a careful stir. Allow it to simmer for 5 to 10 more minutes.
Now comes the turn of the bratwurst. You can procure the raw bratwurst from the local deli. Then you will have to stir fry them or just grill as per your requirements. When they are done you will have to take a sharp carving knife and slice them up neatly and serve with either the crusty roll or bread to mop the extra sauce. You can also keep the leftover sauce for a prolonged period in the refrigerator.
Furthermore, when you are serving the currywurst always remember to sprinkle some of the remaining curry powder on top.
Other popular dishes from Berlin
Beamtenstippe: It is a variety of sauce that is either white or brown in colour and is usually eaten along with potatoes.
Buletten: Typically, the Buletten, a variety of meatballs is a part of the main course but is also often eaten as a snack item.
Eierkuchen: A kind of Pancake usually consumed as an item of the main course.
Eisbein: An item of the main course. It is made using the ham hock and usually served along with Sauerkraut.
Hackepeter: A popular snack that is prepared using raw ground pork that is spiced by using salt, pepper, garlic and caraway seeds.
Kartoffelpuffer: The Kartoffelpuffer is an item of the main course. It is prepared by primarily using grated potatoes that are then mixed with eggs, spices and other ingredients. This dish is generally served with some or the other kind of meat and slightly sweetened with applesauce.
Königsberger Klopse: It is prepared by using meatballs that are then served in a white sauce gravy with capers and typically eaten with potatoes.
Pfannkuchen: It is a kind of pastry that is prepared by using dough dumplings that are then fried in fat or oil. The fillings are prepared by using jam and then finally it is glazed with confectioner's sugar. It is also otherwise known as the Berliner.
Street food in Germany
Meat in its various forms is consumed all over Germany quite avidly and mind you the quantities are not modest at all. Creating an exhaustive list is a matter of challenge and a great task. In any case one can refer to the following dynamic list to have a brief idea pertaining to the various varieties when it comes to sausages:
Bacon Explosion
Bagel dog
Bangers and mash
Battered sausage
Bigos
Boliche
Botifarra
Cassoulet
Cheese dog
Chicken bog
Chili dog
Chorrillana
Coddle
Corn dog
Cozido
Currywurst
Fasole cu cârnaţi
Galette
Galette-saucisse
Gumbo
Helzel
Hot dog variations
Jambalaya
Klobasnek
Ketwurst
Linsen mit Spätzle
Maxwell Street Polish
Michigan hot dog
Olivier salad
Pasulj
Pepperoni roll
Pigs in blankets
Polish Boy
Port sausage
Pringá
Qazy
Ragù alla salsiccia
Red beans and rice
Salchipapas
Sausage and peppers
Sausage bread
Sausage bun
Sausage gravy
Sausage roll
Sausage sandwich
Siskonmakkara
Small sausage in large sausage
Toad in the hole
Wurstsalat