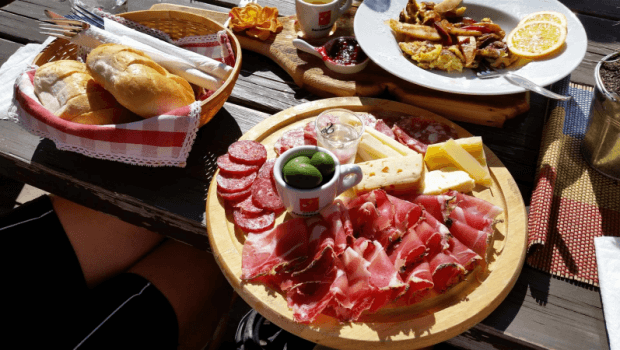 Brotzeit is the classic German appetizing snack which the Bavarians declare as their invention. The term Brotzeit is the German word where Brot means Bread and zeit stands for time. The native Bavarian savory snack which phrases itself to a small meal means 1) That it commonly composes of typical and reasonable Bavarian delicacies and 2) That it is preferred to be eaten comfortably in the beer garden enjoyed with friends and family.
The term Brotzeit is often confused by non-Germans with "Mahlzeit" meaning "To have a sanctified meal!" which is spoken during lunches and mainly in German offices.  The typical snacks that complete the Brotzeit and are served and savored are:
Pretzels: Pretzels are the ultimate classy snacks served alongside. It is a baked snack made from bread and is weirdly shaped into knots forming twists. They are soft and golden brown made with mouth-watering dough and anytime consumed snack. They are flavored and seasoned with chocolates or sugars or glazes seeds and nuts with salt being the essential seasoning in every pretzel.
Kartoffelkäse: It is a fluffy potato and cheese spread which is traditionally served with pretzels. The flavored soft cheese is mixed with mashed potatoes and seasoned with raw or glazed red onions for a tasty dip. Due to its creamy consistency, it completes the Brotzeit.
Obatzda: It is a Bavarian cheese delicacy seasoned with paprika, garlic, horseradish, cloves, and ground caraway seeds. The cream cheese and spices mixed glazed with butter and spread on bread and pretzels. It is a traditional example of Biergarten
Raphanus is a plant which is salted and put on bread to make Brotzeit.
Vienna sausage: It is a kind of sausage served in the snack dish. It is majorly made from chicken, beef or pork in chicken broth. The sausages are long and narrow shaped and cooked until golden brown given a cold cut before fried or roasted and completes the perfect meal.
Smoked Pork Belly: This is the boneless fatty meat of a pig given a smoky flavor for an amazing
Lunch meat: (Or cold cuts or sandwich meats or sliced meats) which are often cut meats of sausages or meat loaves and are put on the bread to make Brotzeit.
Boiled egg
Mustard
Brown bread
Bread rolls
Butter
Tomatoes
Chives
Along with this, there are beverages served to people to complete their snack times such as Weizenbier, Bockbeir, Augustiner Beer, Lemonade, Apple or orange juices, carbonated drinks, etc.  The traditional Bavarian Brotzeit contains the pretzels which are either buttered or seasoned with chocolates or sugars, the cheese, and grapes, roasted or fried cold pork, Bavarian loaf with sweet mustard, potato salad, radish tomatoes and gherkins and some sweet mini cakes for a complete small meal.
Recipe
To make your breakfast time into a whole traditional German Brotzeit style, follow these simple recipes along with the beverages and savor the down-to-earth taste of Austrian-Bavarian Brotzeit and enjoy with your family and friends.
For Brotzeit:
Take some small white rolls or bread and cut them into halves. Apply some butter or homemade jam or Bavarian honey. You can also use some cheese or ham instead according to you and your family's taste or make a variation with every single one. Take some meatloaf and place it over them by slicing them up and arranging them.
Now, for the open sandwiches you can always use as many as combinations and taste such as cheese, salami, and pickles combination or mixing butter, tomatoes, boiled egg on the other. The particular restaurant style includes the perfectly seasoned chives, green onions, sliced tomatoes and salt to taste on a big slice of bread. There is also a bread called Volkornbrot which you can use with some sliced vegetables, hams, butter or cheese along with sunflower seeds or caraway seeds
There is another good combination with soft and rich creamy cheese flavored with tomatoes, onions, chives on a loaf of German bread. You can also change its flavor from tangy and spicy to sweet by using honey or homemade jam instead with thick Greek Yogurt on a slice of brown or white bread.
Another way is by taking a thick and hearty size of bread having the crunchy crust. On it spread the butter evenly; place some sliced radish which is small and pinkish, some freshly chopped chives and sea salt to taste.
For Beef in Vinegar and Oil: (Oil Rindfleisch in Essig und Öl)
To prepare this easy beef salad to serve alongside with oil and vinegar dressing:
For the beef, cook the leftover beef and then gently place it in a bowl.
Now, slice the cooked ones into slices and chunks and put it in the bowl again.
Dice some onions and put them over. Now, cut some apples into chunks and pour some vinegar (heat it till broth if necessary for a unique flavor).
Pour the required amount of oil and let it soak for about 10-15 minutes. Mix well.
Sprinkle some freshly chopped chives and mustard for taste (gives a really fresh tinge to the recipe).
For German Obatzter:
To make the best and creamy Obatzter as a dip, spread or side serving:
Take about 60 grams butter and place it in a hot bowl so that the butter starts to melt and becomes soft.
Now in it, add about 3-4 spoonfuls of quark and add about 100-120 grams of rime Camembert.
After adding the ingredients, keep dabbing it with the fork until it becomes all thick, rich and creamy in texture
After this, add some chopped green onions and sprinkle some freshly grounded pepper for seasoning.
To make it spicier, you may add some paprika and then mix it well and then add some fresh, chopped chives.
This spread tastes the best on fresh baked bread or as a dip with pretzels and a good cold beer. Consume on the same day of making.
For Bread with chopped chives (German Schnittlauchbrot)
Take a freshly baked hearty amount of sliced bread
Generously spread some butter on it and sprinkle some freshly chopped chives and coarse salt to taste
Cut the bread to the chopped chives well to put them in a shape of small square or rectangular shapes and serve immediately
They can be served when you decide to make the Brotzeit sweet in taste and to complete the fusion of sweet and spicy on the platter.
For Kartoffelkäse:
Take some potatoes and boil them until they are soft.
Peel the skin and mash them with the masher.
Dice the onions (green or red) and place it in the bowl of mashed potatoes.
Mix some sour cream (which can be Greek of Joya)
Add some salt and pepper according to taste.
Mix them well and sprinkle some freshly chopped chives and enjoy the delicacy.
You might have noticed that chives almost goes with every dish and side dish of Brotzeit, this makes it unique and different from others and adds the simple meal to the next level. Enjoy it with friends and family with a nice little beverage. This is truly a great recipe to relish with your dear ones. So the next time you throw a party at your home or it is a family get together, do include this amazing food in the menu. Your folks would love it for sure!