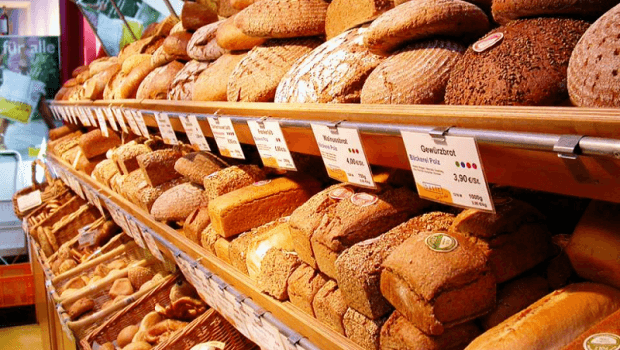 Brot – the amazing German bread
When one talks about basics of eating in the German land, it is inevitably bread or Brot, one of those unscrambled institution which is legendarily famous with various blends of variations and mixtures of different grains from rye, wheat, linseed, buckwheat to oats, millet or its pure form. The use of various seasonings of dry fruits, nuts, seeds, etc., fermentation procedures, with fine or coarse ground flour with attractive shapes and sizes are unique and unparallel, being one of the reasons Germany to produce one of the best bread over the globe. With the passage of time and development, bakers of Germany had been able to merge traditional methods with the modern ones to produce a superb class of these luxurious breads of enormous varieties which are showcased beautifully over the shelves and rags in the bakeries over the streets of Germany.
Origin:
Being an inevitable part of the German cuisine, bread or as known in Germany, Brot is usually served for breakfast or in the evening as sandwiches. German brot or bread is different from that of European or American bread, because of its unique, delicious texture and flavor compared to those of the Western countries. Germany produces about 600 types of main bread. Abendbrot, also known as the evening bread, is the traditional meal of serving bread with butter, cold cuts, and cheese spread over it, while Brotzeit is the bread served in the morning or afternoon all over the southern parts of the German land. A part of making social differences in the past, black and white bread was based on different geographical regions. Since the amount of gluten present in rye is less than that of wheat, it requires a long time for sourdough fermentation to rise, which imparts a sour flavor and taste to the bread along with providing more compact texture. These breads made out of Rye were considered less luxurious in the olden days. Pumpernickel is the darkest and one of the most extremes found in the Northern part of the German land, which was originally called Swattbraut. Moreover, still today historians are having controversies regarding the 17th-century root name of the bread. In the olden days, poultry and horses were fed bread made out of whole grained rye.
Another marked difference between the Northern and Southern parts of the German land lies in the custom of serving breads which is thought to be marking the same since the Middle Ages. Where in the North people serve bread with salty butter, and other sweet accompanies and sometimes even with savory, while in the South bread or brot has occupied a very special status next to potatoes. Thus, people there see brot as a separate item of food where spices such as fennel, caraway, and coriander are used for seasonings.
However, in the present world with people concerned with their health and diet, a trend of the taking of darker breads has taken all over the German country. This trend (Lebensreform) was similar to that take which took place apparently almost a century ago, which resulted in research and findings by Leibeg in the field of nutritional chemistry followed by the industrialization of food production.
Recipes:
Following is a recipe for sweet bread known as Hutzelbrot treated with dried fruits and is awesomely delicious to taste.
For making of 2 loaves, the following ingredients are required:
Dried fruits mostly pears with figs, prunes, and raisins: 4 cups
Walnuts, hazelnuts: Roughly chopped, two ¼ cups
Spelled flour: 6 cups
Rye flour: 4 cups plus two tablespoons extra
Salt: to taste
Honey: 2-3 tablespoons
Dried yeast: 1 packet
Ground cinnamon: 1 tablespoon
Aniseed: 1 tablespoon
For glazing purpose:
Powdered sugar: 1 tablespoon
Corn starch: 1/2 tablespoon
Instructions:
Firstly, the dried fruits are cut into small pieces of about half inch each. About 1 liter of water is taken in a bowl where the cut fruit pieces are left to soak for about 5 hours; one may leave it overnight for better soaking. The excess water is then drained and reserved. Now, the two different types of flour as mentioned are mixed with the given quantity of salt and spices. The dried yeast is combined with the fruit drained water of about 250 ml and honey in a small bowl This mixture is then added slowly to the prepared flour. More liquid may be added further to form a bit sticky dough if needed. Form the dough into a ball by scraping the sides of the bowl. About two tablespoons of rye flour is sprinkled over it, and then covered with a clean towel, the same is left to rise for about 5 hours in a cool place. After this, the oven is preheated to a temperature of about 170 degree Celsius. Now, take a baking tray, lightly grease it and place two oval loaves kneaded from the dough. The same is baked for about an hour. Just immediately after baking, 125 ml of soaking liquid combined with sugar and starch is brushed over the hot baked loaves.
Tip: Wrap the loaves in waxed paper and then store the same in dry and cool place for at least a week for a better taste.
The second recipe is the making of authentic –German traditional bread known as Bauernbrot, which was traditionally prepared from scratch in farm houses and then baked in firewood oven, imparting a crusty, chewy crumbed flavor.
The following recipe is for preparation of 1 large loaf for which the following ingredients are required:
For dough starter:
¾ cup of bread flour,3/4  cup of rye flour, malt syrup or honey of about three tablespoons,
1 and ½ cups lukewarm water, and half a tablespoon of instant yeast.
For flour mixture:
2 and ½ cups of bread flour, Caraway seeds (2 tablespoons), salt to taste, instant yeast of about ½ tablespoon, one tablespoon of oil and cornmeal for baking tray
Instructions:
For the starter, add the ingredients to a large bowl and then mix until smooth. Leave the same for about 10 minutes for the yeast to activate and rise.
While the starter is at rest, the other ingredients are mixed leaving the oil and the cornmeal, which would be used later. The flour mixture is poured over the starter. No stirring is required. The bowl is then covered with a clean towel and then left aside for about 2 hours or more(maximum 5 hours).This rest will impart a boosting flavor to the loaf and allow the starter to bubble through the mixture of flour.
Now, oil is added to the flour mixture, and the flour mixture is stirred into the starter. Remove the dough and then kneaded for about 10 minutes as the mixture comes together. Kneading should be done until smooth and elastic. If it is too sticky, use extra flour to prevent it from sticking to your hands.
The dough is set aside for about 10 minutes to rest in a lightly oiled bowl; again the dough is topped lightly with oil, cover the same with a clean towel until the dough reaches double its size in about 2 hours. Then, take it on a floured surface, knead it for about 3-4 times. Again a ball is formed and then again left to rise for 45 minutes or more.
The oven is preheated at about 450 degree Celsius. A small metal pan is placed in the oven for later use, the dough is pressed down and is formed into a ball, and which is then set in a cornmeal sprinkled baking sheet. Again the same procedure of setting aside the dough to rise after covering it with a clean towel is followed for about 1 hour.
After that, three parallel lines are slashed over the top of the dough using a sharp knife each line of about ¼ inch deep. Then another set of 3 perpendicular lines are cut slashed to the first set. A spray bottle of water is used to mist the dough. Now the baking sheet is placed in the oven, and a cup of water is poured for steaming. The same is baked for about 15 minutes immediately shutting the door after creating steam. The heat is then reduced to about 400 degrees F for another baking of about 35-45 minutes; the loaf is then set to cool.
Variations in making of Bauerbrot:
One may opt for variation in the making to get more delicious bauerbrot. Some of the variations are:
One may prefer to use either bread flour or rye flour or with one's proportion more than the other according to his liking.
Sesame seeds, sunflower seeds, cracked wheat, flaxseeds may be added to give boosted texture to the loaf.
Fermentation is very important in the preparation of bread. Let the starter ferment for at least 1 hour at room temperature and then set the same in the refrigerator to again ferment slowly for another 8 to 24 hours, again return the same at room temperature before making the recipe.
Your recipe is ready to be served! You can include this in your menu the next time you throw a family get together. Your guest will love it for sure!