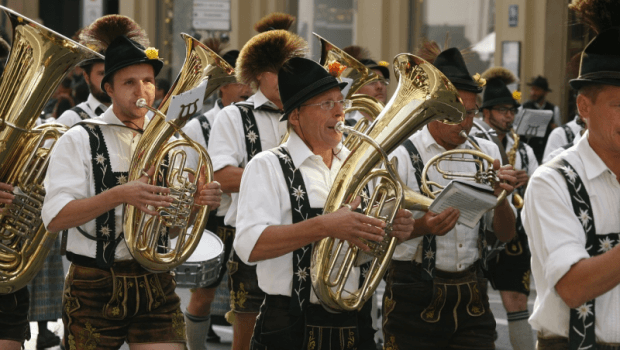 Traditional Costume: Lederhosen
You may have heard the saying that clothes make a man; it is true indeed. However, clothes define culture too. It is very easy to identify a person's ethnicity based on his clothing. One such traditional dress is lederhosen. Lederhosen is composed of two words leader and hosen; leder stands for leather whereas hosen stand for pants. As the name suggests the shorts are made of leather and has suspender.  It is associated with Bavaria particularly. The pants and suspenders are usually embroidered. Earlier it was worn by peasants and later by all sections of society. After the 20th century the popularity of lederhosen dwindled, but now the trend has emerged once again. Now it is usually worn as a leisurewear.
History
As mentioned that lederhosen is typically associated with Bavaria and the Alps. The history of the costume can be traced back to 1626. During 1626 the Prince Elector Maximilian established a dress code based on a person's social class. Hence, there was a different dress code for nobility, aristocrats, merchants and peasants. During Elector Maximilian's reign lederhosen was worn by peasants only, as their work involved more physical labor. It was not acceptable for people from higher strata to wear lederhosen. Similarly, it was not acceptable for peasants to wear clothes similar in style to the clergy or nobility. Lederhosen became an acceptable costume only during King Ludwig II's reign, due to his particular taste in traditional costume. The tradition of wearing leather pants is quite old. According to some studies, historians suggest that leather pants are as old as 6th century AD and they were worn all over Europe. The modern form of lederhosen dates back to 16th and 17th century in Alpine region of Austria and Bavaria.
French Association
Some historians suggest that Lederhosen is closely associated with France. It has been suggested that lederhosen evolved from French culottes or knee breeches. Although culottes were made of silk, satin, and other fine material. If we look closely, we will find that there is a very uncanny resemblance between both the traditional men's wear.
Oktoberfest and Lederhosen
As already mentioned earlier lederhosen was typically worn by peasants and the people from upper class usually avoided them. Alternatively, it can be said that it was against the status of their class to wear them. However, as time passed, lederhosen became quite popular among all the classes of German society. The popularity of lederhosen among the elite section is credited to a man nicknamed Sepp.  The decline of culture and increasing popularity of loden trousers across Germany was a very problematic issue to John Vogel and his brothers. Soon the first traditional association of costume was formed, and Lederhosen was produced on a large-scale. However, then also the product did not gain much popularity. On a Sunday morning, John Vogel and his brothers went to the church in their preferred set of pantaloons. There was an outrage, and everyone was in disgust. It was nothing less than a scandal. However, the party of six men was saved due to King Ludwig II, who was very thrilled by their idea. In fact, King Ludwig II was also a great fan of traditional costumes. Over next few years, many people started accepting Lederhosen and its popularity increased many folds. King Ludwig's acceptance of lederhosen made it so popular that today Oktoberfest is not complete without it. Nowadays one can see different varieties of the costume during the festival.
Modernization of the Costume
After denim pants had come into the market, the popularity of lederhosen decreased significantly, but recently the costume has been in trend among the German population once again. Earlier the texture, softness, and color of the costume depended on the class who was wearing it. For instance, the lederhosen worn by peasants was usually black in color, sturdy and made of cheap leather, whereas lederhosen worn by noblemen was of high quality, smooth and soft. The lederhosen for peasants was made of goat or sheep skin. The one which was meant for nobility was made from deer skin. The pants were also intricately decorated which was a symbol of nobility.
The unique part of the costume is the rich embroidery done on it. One can find embroidered patterns on both the suspenders as well as the pants. As mentioned that the popularity of lederhosen dwindled after the availability of jeans, hence people from all sections of society changed their clothing eventually. An interesting fact is that jeans were also designed by a German whose name was Levi Strauss.
Now one can buy lederhosen online as well as through window shopping. One can select from a range of different leathers as well as with various embroidery patterns. One can wear them when in Munich during the Oktoberfest. You can feel the rich heritage that they carry with them. Like hunters and horse riders you can also try wearing them when riding a horse. The costume is available in many sizes. Moreover, kids look even cuter in the costume. Like men, women in Alpine region too have a traditional dress known as a drindl. Drindl is a two piece costume. It has a blouse and a skirt which is wrapped with a ribbon. The side on which the ribbon is tied tells about the relationship status of a woman. If you buy a lederhosen you cannot wash it, in fact, the sweat makes the leather more endurable and soft. The dirtier the pants are, the better. Lederhosen is now worn on special occasions only, but certain Bavarians wear them regularly. Now a days lederhosen is particularly worn as a wedding dress by the groom and drindl by women.
Lederhosen and drindl are together called as tracht. You can find tracht easily across Bavaria. It is difficult to lay hands on it outside as tracht is a traditional local costume. When you are in Bavaria, and you want to mingle with the locals during festivals, then you need to have a pair of tracht. Now a days you can spot women in lederhosen too. If you are a woman, and you are not interested in draping a drindl, then you can try your hands on lederhosen. It'll add a spark to your look.